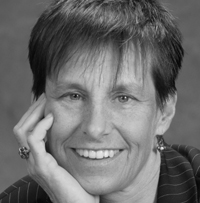 Jan Regan has been a photographer for as long as she can remember.
Professionally, she has worked for colleges, orchestras, hospitals, travel and tourist organizations, corporations, banks, manufacturers, non-profit agencies, and lots and lots of private individuals.
With camera in hand she has leaned out of helicopters, peered over cherry picker buckets, emerged from the depths of underground tombs, clung to the waists of motorcyclists and snowmobile escorts, gripped tightly the saddles of horses on the Sahara, breezed across cruise ship decks, scaled cliffs, meandered markets, and hung out in her own loft-like studio in Geneva, New York, in the heart of the Finger Lakes.
In the line of duty, she has worn ear plugs, hair nets, hard hats, safety goggles, tuxedos, running shoes, hip boots, operating room scrubs, business suits, and many, many pairs of jeans.
She has looked through camera lenses into the eyes of babies, brides, high school seniors, loving families, actors, musicians and presidents.
She has shouted over bottling assembly lines. Whispered through babies' naps. Arranged wine bottle still lifes, large groups of lawyers, the hair on a nervous portrait subject's head.
She loves it all. Call or email to discuss your next photographic need, and allow her to work with you, in her comfortable style, to achieve just the images you are hoping for.
Jan Regan Photography : 315.781.0913 : Send Email